Welcome to the ETRIA Portal: the official website of the European TRIZ Association, where we inform public about our activities and events, and maintain a virtual venue for the ETRIA community to communicate and collaborate. Please note that some functions of the portal are only available to the registered members of ETRIA.

LATEST NEWS:
LATEST EVENT:

ETRIA World Conference TRIZ Future 2017
"Bridging creativity in science, entrepreneurship, industry and education"
October 4-6, 2017, Lappeenranta, FInland

Offical Conference Page: http://www.lut.fi/web/en/tfc2017
Click http://www.lut.fi/en/lut/ for a quick tour thru LUT
CALL FOR PAPERS (ABSTRACTS)
In this call:
Deadlines
Organizing Committee responsible persons
Instructions for authors (on abstracts)
Deadlines:
April 15, 2017: application to participate in the conference as an author (by submitting the abstract);
April 15, 2017: online abstract submission (to e-mail This e-mail address is being protected from spambots. You need JavaScript enabled to view it ; until the special registration web-page is open)
April 15, 2017: suggestions for special sessions topics/round table meeting (upto 5 papers or participants group is needed)
May 15, 2017: Organizing Committee's invitation to present the full-text article;
July 1, 2017: submitting of the full-text paper and author's data;
August 15, 2017: Organizing Committee's notification of acceptance/rejection/required improvements.
August 25, 2017 is the closing date for making required improvements.
September 1, 2017: application to participate in the conference as a visitor (early registration organizing fee reduction is under consideration now)
Organizing Committee Responsible Persons:
Local Organizing Committee Co-Chairman: Dr. Kalle Elfvengren, Riitta Salminen (LUT, Finland).
Scientific Program Chairman: Prof. Leonid Chechurin (LUT, Finland and SPbSPU, Russia), Co-Chairman: Prof. Gaetano Cascini (Politecnico di Milano, Italy)
Instructions for Authors:
Dear authors,
We are going to organize scientific and practitioner's tracks at TFC2017. The scientific contributions should contain new findings in TRIZ and other creativity support methods in the dialog with TRIZ, integration studies on TRIZ and well-documented examples of TRIZ application, reproducible experiments etc. The target audience for this track is research community, scientists as well as practicing experts who are interested in carefully proven findings.
Practitioner's contributions should present some valuable advice for the industry and business, case studies, essays on TRIZ application experience, recommendations, advice based on intensive practice, report on the project etc. The target audience for this track is the community of practitioners, engineers, consultants, teachers, who appreciate your sharing of practical experience and may use it.
All abstracts will be screened by the Scientific program committee. The invitation to present the full size paper will be sent to those abstracts that meet the scope of the conference. All submitted papers will be peer-reviewed by scientific and practitioner's reviewer boards. We have reached the principal agreement with Springer for publishing the selected papers as a stand-alone proceedings book.
Info for the authors of the TFC2016 in Wroclaw: the selected papers presented at the TFC2016 will be submitted for publication in a Springer book 2017 together with the papers of the TFC2017.
Papers not selected for the Springer volume will be published in the Journal of the European TRIZ Association.
General Requirements for Submitted Abstracts:
Abstracts should contain title, authors, problem statement and key findings.
Abstract size should not exceed 300 words volume. Font size and design are arbitrary. All abstracts must be in English.
SIncerely,
Leonid Chechurin
LATEST EVENT:

ETRIA World Conference TRIZ Future 2016
October 24-27, 2016, Wroclaw, Poland
PAST EVENTS:
ETRIA World Conference TRIZ Future 2015: "Creating Value for Customers and Society"
October 26-29, Berlin, Germany

Impressions from TRIZ Future 2015:
Video feedback of the event: https://youtu.be/LleTGME1feQ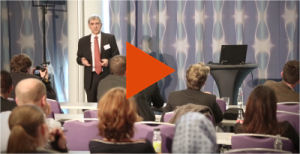 ETRIA World Conference TRIZ Future 2014
October 29-31, Lausanne, Switzerland
The 2014 issue of the TRIZ Future Conference took place from the October 29th till 31st at EPFL Lausanne, Switzerland.
ETRIA World Conference TRIZ Future 2013
October 29-31, Paris, France
ETRIA's TRIZ Future Conference 2013 took place in Paris, France on the 29th–31st October 2013. The Conference was organized by the Ecole Nationale d'Arts et Métiers (Arts & Métiers ParisTech) of Paris, ETRIA - The European TRIZ association, and was sponsored by CIRP, the international Academy for Production Engineering. The conference gathered about 140 registered participants. The Conference featured 3 tutorials and 79 presentations in total including keynote talks and presentations at plenary sessions.
PREVIOUS EVENTS
Click here for more information about our past conferences